YouTube Monetization Policy 2023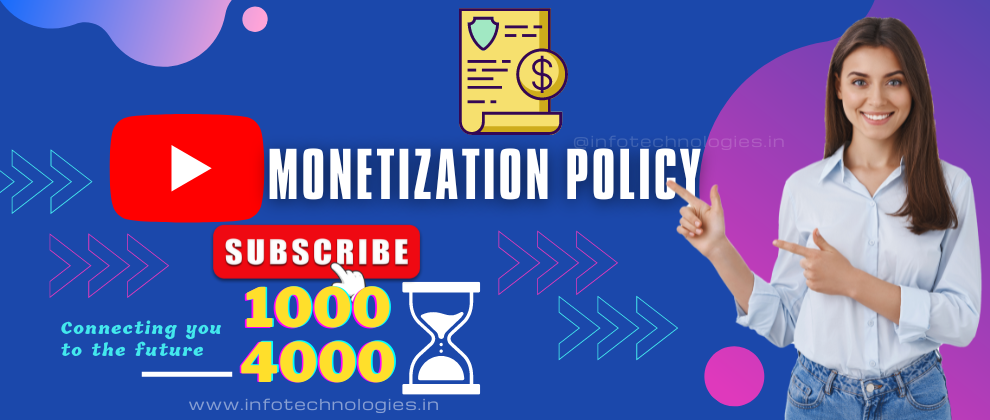 What Exactly Is YouTube Monetization Policy and How Does It Work?
Simply put, YouTube monetization policy 2023 is the process of earning income from your YouTube videos. The monetization model is relatively simple. Advertisements on YouTube are created by businesses using the Google AdSense Network.
These advertisements can appear at any time during the video. The owners of these videos are paid each time a viewer watches the entire advertisement.
YouTube Monetization Policies
The community guidelines, terms of service, copyright, and Google AdSense are among the rules that govern usage.
If you want to make money from your channel, you must follow YouTube's monetization guidelines. These rules apply to any user currently enrolled in the YouTube Partner Program or considering YouTube Partner Program or thinking about joining.
Acceptance into the U tube Partner Programmer is a significant step in any creator's career. Creators can start monetizing their content as part of, receive email and chat support, and gain access to the Copyright Match Tool to help protect their content.
What subjects are covered by the Community Standards?
You want to ensure that any type of content you create aligns with what your audience wants. Start by getting to know your audience and what type of content they want to see from you, whether you're writing a blog post or making a video.
If you're just getting started with U tube promotion, look at your competitors or other video creators in your industry. Examine which of their videos receives the most views and engagement. This will give you an idea of what topics your audience is interested in learning about as well as the type of videos they prefer.
YouTube's Fake Engagement Policy is an integral part of its commitment to maintaining a fair and authentic platform for content creators, viewers, and advertisers. This policy aims to tackle the manipulation of engagement metrics, such as likes, dislikes, comments, and views, by using artificial or deceptive means.
YouTube's Impersonation Policy is designed to protect the identity and reputation of individuals and organizations on the platform. This policy aims to prevent users from impersonating others by creating channels or content that mislead viewers into believing they are associated with someone else.
YouTube's External Link Policy ensures that the inclusion of external links within videos and video descriptions is done responsibly, promoting transparency, relevance, and user safety. It allows content creators to direct viewers to additional resources while maintaining the overall integrity and security of the platform.
YouTube's Playlist Policy governs the creation and management of playlists on the platform. Playlists are a convenient way for content creators and viewers to organize and share videos around specific themes or topics. The Playlist Policy ensures that playlists adhere to community guidelines and remain a positive and engaging feature of YouTube.
YouTube has several additional policies in place to maintain a safe, fair, and positive environment for its users. These policies go beyond the content guidelines and cover various aspects of the platform. Here are some important additional policies: Posting previously removed content or content from creators who have been dismissed or restricted
YouTube's Spam, Deceptive Practices & Scams Policy is in place to protect users from harmful and misleading content on the platform. This policy aims to maintain the integrity of YouTube by preventing the spread of spam, deceptive practices, and scams that can negatively impact the user experience.
The Child Safety Policy on YouTube is an important part of the platform's commitment to providing a safe and acceptable experience for children. This policy strives to safeguard children from dangerous, exploitative, or inappropriate information for their age group.
YouTube's Thumbnail Policy is designed to ensure that video thumbnails are appropriate, accurate, and compliant with the platform's community guidelines. Thumbnails play a crucial role in attracting viewers and providing a visual representation of the video's content, and YouTube has specific guidelines in place to maintain the integrity of this visual element.
YouTube takes the issue of suicide and self-harm very seriously and has implemented a comprehensive Suicide and Self-Harm Policy to address these sensitive topics. The policy is designed to prioritize user safety, provide support resources, and prevent the spread of harmful content.
YouTube has guidelines in place regarding the use of vulgar language to maintain a safe and respectful environment for all users. While YouTube allows freedom of expression, it also encourages responsible use of language to ensure a positive viewing experience for a diverse audience.
YouTube has clear guidelines regarding nudity and sexual content to maintain a safe and inclusive environment for its users. The platform aims to strike a balance between freedom of expression and ensuring the comfort and safety of its diverse audience, including minors.
YouTube's Violent or Dangerous Content Policy is in place to ensure the safety and well-being of its users and to prevent the promotion or glorification of violence or dangerous activities on the platform.
Key points regarding YouTube's Violent or Dangerous Content Policy are as follows:
Prohibition of Harmful Content -YouTube strictly prohibits content that promotes violence, harm, or dangerous activities 

Educational, News, and Documentary Content – ouTube recognizes that there may be instances where violence or dangerous activities are shown for educational, news reporting, or documentary purposes.

Community Guidelines Compliance – All videos, including those with violent or dangerous content, must adhere to YouTube's Community Guidelines, which cover a range of prohibited content, including hate speech, harassment, and graphic violence.

Reporting and Enforcement -Users are encouraged to report any videos that violate the Violent or Dangerous Content Policy.
YouTube's Sale of Illegal or Regulated Goods or Services Policies are in place to prevent the promotion, sale, or distribution of illegal or regulated goods and services on the platform. These policies ensure compliance with applicable laws and regulations and maintain a safe and trustworthy environment for users.
Key points about YouTube's Sale of Illegal or Regulated Goods or Services Policies include:
Prohibited Goods and Services

Content and Advertising Guidelines

Enforcement and Consequences
YouTube Monetization Policy 2023
Speech Synthesis not supported
Your browser does not support speech synthesis.
We recommend you use Google Chrome.