YouTube Monetization Policy 2023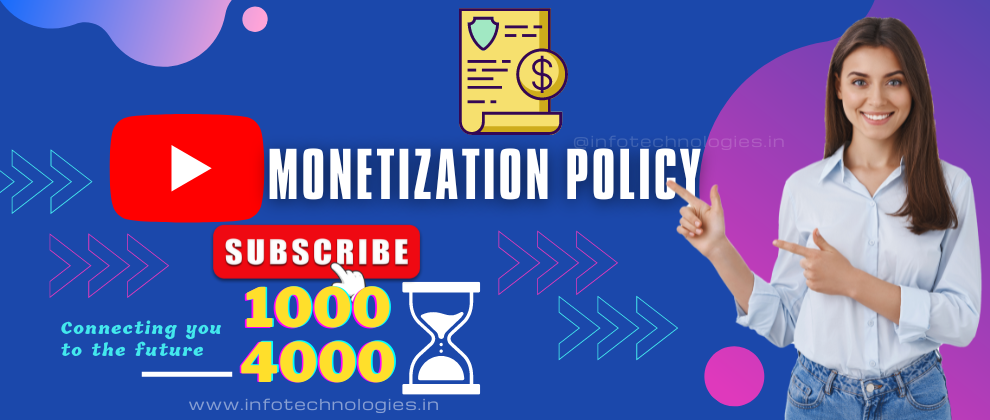 What Exactly Is YouTube Monetization policy and How Does It Work?
Simply put, YouTube monetization policy 2023 is the process of earning income from your YouTube videos. The YouTube monetization model is relatively simple. Advertisements on YouTube are created by businesses using the Google AdSense Network.
These advertisements can appear at any time during the video. The owners of these videos are paid each time a viewer watches the entire advertisement.
YouTube Monetization Policies
The community guidelines, terms of service, copyright, and Google AdSense are among the rules that govern YouTube usage.
If you want to make money from your channel, you must follow YouTube's monetization guidelines. These rules apply to any user who is currently enrolled in the YouTube Partner Program or is thinking about joining.
Acceptance into the YouTube Partner Programme (YPP) is a significant step in any creator's career. Creators can start monetising their content as part of YPP, receive email and chat support, and gain access to the Copyright Match Tool to help protect their content.
What subjects are covered by the Community Standards?
You want to make sure that any type of content you create is in line with what your audience wants. Start by getting to know your audience and what type of content they want to see from you, whether you're writing a blog post or making a video.
If you're just getting started with YouTube promotion, look at your competitors or other video creators in your industry. Examine which of their videos receives the most views and engagement. This will give you an idea of what topics your audience is interested in learning about as well as the type of videos they prefer.
YouTube Monetization Policy 2023
Speech Synthesis not supported
Your browser does not support speech synthesis.
We recommend you use Google Chrome.