AI Tools for Content Writing
The demand for high-quality content has never been more significant in the fast-paced digital world. SEO (Search Engine Optimization) is vital in writing content visible to users and search engines alike. With the advancements in AI technology, various AI writing tools have emerged, designed to create SEO-friendly content that drives traffic and engagement. In this short note, we will explore some of the top AI writing tools that can help content creators optimize their content for search engines.
There are many AI tools available for content writing, including:These AI tools can help you to improve the quality of your content, save time, and increase your productivity as a content writer.
Keyword Research and Optimization
AI writing tools with SEO capabilities excel in keyword research and optimization. They help identify relevant keywords and key phrases that align with the content's topic and target audience. These tools provide valuable insights like search volume, competition level, and keyword trends. They enable content creators to integrate keywords for better search engine rankings strategically.
Content Generation and Enhancement
AI writing tools assist in generating engaging and informative content. They utilize advanced algorithms to analyze existing content, identify gaps, and suggest improvements. These tools can optimize the content structure, headings, and meta descriptions, ensuring they adhere to SEO best practices. Additionally, they offer readability analysis, helping creators produce search engine-friendly and user-friendly articles.
Content Planning and Strategy
  SEO-friendly AI writing tools for content planning and strategy development. They can provide content suggestions based on popular topics, trending keywords, and audience interests.
   These tools help content creators align their content creation efforts with SEO objectives, making targeting specific keywords easier, catering to user intent, and optimizing content for higher search engine rankings.
Natural Language Processing (NLP) Capabilities
State-of-the-art AI writing tools leverage natural language processing techniques to enhance content quality and relevance. These tools can understand context, sentiment, and language nuances, producing more authentic and engaging content.
NLP-powered features like sentiment analysis and language optimization improve SEO performance by improving user experience and reducing bounce rates.
SEO Analytics and Reporting
Many AI writing tools provide built-in analytics and reporting features to monitor the SEO performance of published content. These tools offer valuable insights into keyword rankings, organic traffic, click-through rates, and other SEO metrics.
By analyzing this data, content creators can identify areas for improvement, refine their SEO strategies, and continuously optimize their content to stay ahead in search engine rankings.
Writesonic – Best AI Writer
To improve clicks, conversions, and sales, create SEO-optimized marketing text for blogs, essays, Facebook advertising, Google advertising, Quora answers, and sales emails.Use the writeSonic Editor (an improved version of Google Docs) to compose sales letters, essays, reports, and even ebooks; the AI Writer to write lengthy blogs and articles. Additionally, you may flawlessly alter your material with our AI-powered shortening, expanding, and paraphrasing tools.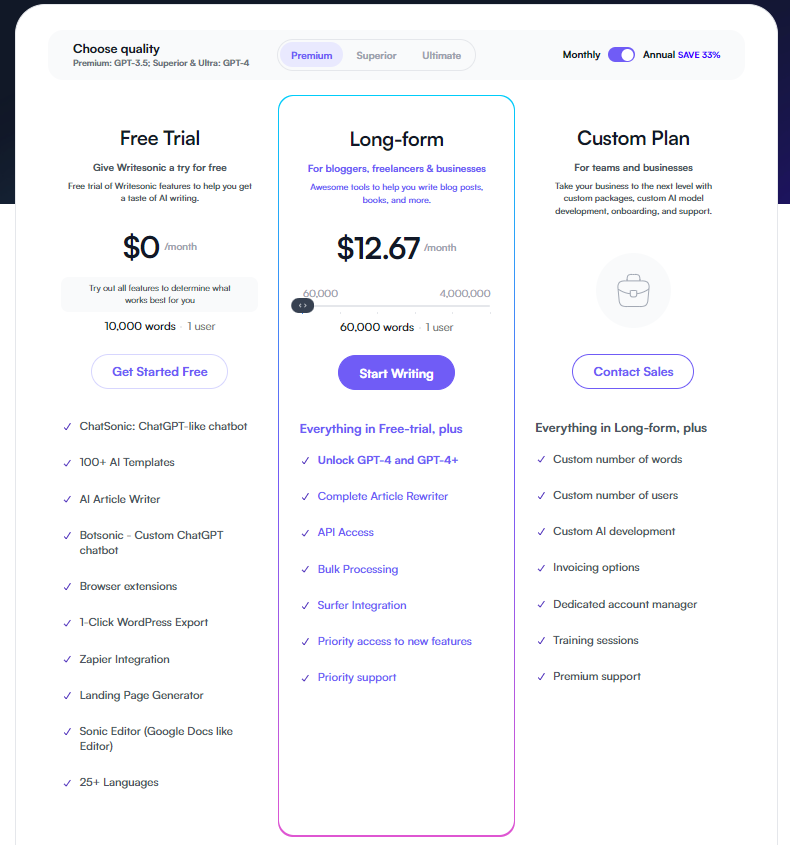 Whatever you want to ask, our chat has the answers
Get better results in a fraction of the time.Finally, a writing tool you'll actually use.
Copy.AI is an innovative AI-powered copywriting tool that redefines the way businesses and marketers approach content creation. By harnessing the power of artificial intelligence, Copy.AI empowers users to produce persuasive and engaging copy for various marketing materials effortlessly. Whether crafting compelling ad copies, captivating social media posts, or persuasive sales letters, Copy.AI's advanced algorithms and natural language processing capabilities make it a game-changer in copywriting.
Power your business with generative AI Jasper is an artificial intelligence platform that helps  teams create high-quality content faster. Stop chasing word-count and start pursuing ideas.
Jasper AI is a cutting-edge AI writing tool that is revolutionizing the content creation landscape. With its advanced artificial intelligence capabilities, Jasper AI empowers writers, marketers, and businesses to produce high-quality content efficiently and effectively. Whether crafting engaging blog posts, creating compelling marketing copy, or generating SEO-friendly articles, Jasper AI's intuitive interface and powerful algorithms make it a valuable asset for content creators.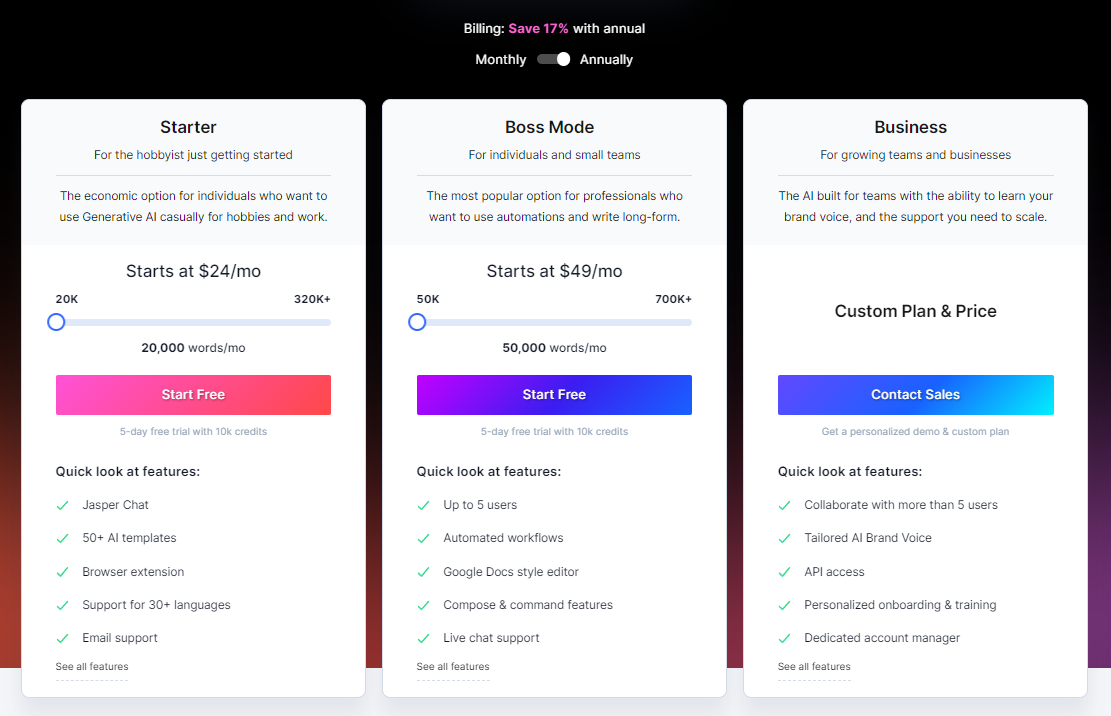 * AI Writer - AI Tools for Content Writing
Generate Accurate, Relevant & Trustable Content in Minutes Using state-of-the-art AI writing models to generate articles with information you can always verify.
Full-length article drafts gives you a solid base for writing.
List of citations so that you can verify the information and deliver accurate and quality content.
The AI-generated text is always fresh and relevant.
The AI-generated text is guaranteed to be unique and original.
The AI-generated text is SEO-friendly and authoritative.
The AI-generated text can be directly published to WordPress.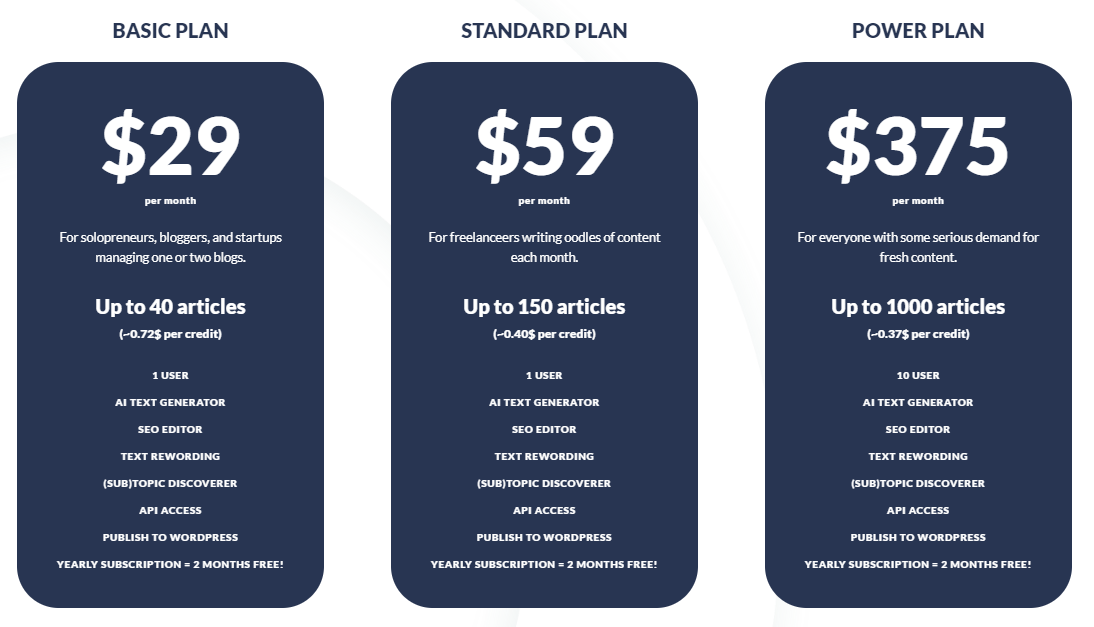 A better, faster way to write and Automatically generate high-quality content 
Rytr is an innovative AI-powered writing tool making waves in the content creation industry. Leveraging the power of artificial intelligence, Rytr aims to simplify and enhance the process of generating high-quality writing content for various purposes. Whether you're a content creator, marketer, or business owner, Rytr offers a user-friendly platform to boost productivity and creativity while focusing on SEO and audience engagement.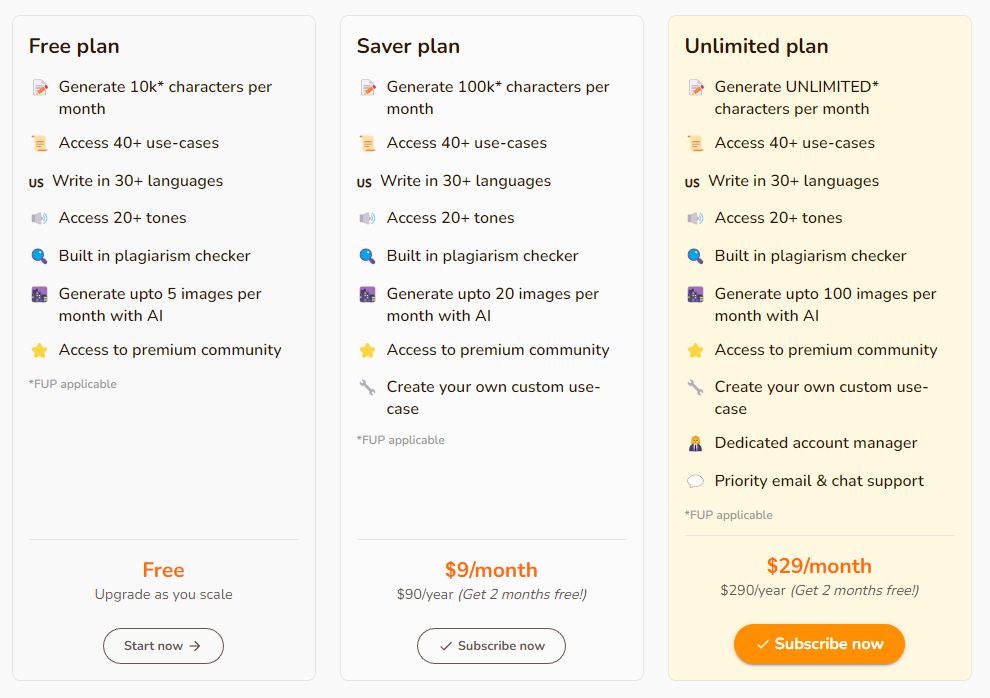 Your personal AI writing assistant From flawless marketing copy to everyday business communications, HyperWrite helps you work smarter, faster, and with ease.
HyperWrite is an advanced AI-driven content creation tool that aims to revolutionize SEO strategies and content marketing efforts. With its state-of-the-art features and algorithms, HyperWrite empowers businesses, bloggers, and content creators to craft compelling, search engine-friendly content effortlessly. By harnessing the power of artificial intelligence, HyperWrite streamlines the content creation process and enhances SEO performance, leading to increased online visibility and organic traffic.
Writerly is AI productivity software that is powerful, not overpowering. Trusted by over 200,000 of the world's most innovative organizations and creators, we leverage generative AI to enhance business outcomes.
Writerly is an innovative AI-driven writing tool that aims to unleash the full potential of writers and content creators. By combining advanced artificial intelligence with user-friendly features, Writerly streamlines the writing process and enhances creativity. Whether you're a novelist, blogger, journalist, or student, Writerly offers a comprehensive suite of tools to help you write better, faster, and more precisely.